Latest state to revolt against kidnapping provisions of NDAA
by Paul Joseph Watson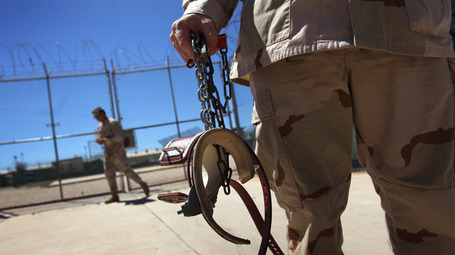 Utah has become the latest state to revolt against the indefinite detention provision of the National Defense Authorization Act (NDAA), introducing a resolution urging Congress to repeal the law that allows Americans to be incarcerated without trial.
Following in the footsteps of Virginia, which earlier this month passed a House bill that codifies noncompliance with the "kidnapping provisions" of section 1021 and 1022 of the NDAA, the resolution "expresses disapproval" of the same provisions, noting that they serve to "violate a right guaranteed by the United States Constitution and the Utah Constitution."
"Be it further resolved that the Legislature of the State of Utah, the Governor concurring therein, urges the United States Congress to repeal or clarify Sections 1021 and 1022 of the 2012 NDAA to protect the rights guaranteed by the United States Constitution and Utah Constitution," states the resolution (PDF).
The NDAA bill, which was signed into law by President Obama under the radar on New Years Eve while he was on vacation in Kailua, hands the government power to "allow the military to indefinitely detain terror suspects, including American citizens arrested in the United States, without charge."
Republican Senator Todd Weiler, the chief sponsor of the resolution, fears the indefinite detention provisions of the bill could be used against American citizens just as the Patriot Act has been used against non-terrorists, telling the Salt Lake Tribune, "I have a legitimate fear this National Defense Authorization law will do the same thing."
Emphasizing how opposition to the indefinite detention provisions of the NDAA crosses partisan lines, both the American Civil Liberties Union and the conservative Utah Eagle Forum expressed their support for the resolution.
"Our concern is in the definition of 'terrorist,' " the Eagle's Forum's Dalane England told the Salt Lake Tribune. "Our current administration has already called people pushing back against the current administration terrorists."
Indeed, under the Obama administration, the FBI, the Department of Homeland Security, and the National Counterterrorism Center have jointly identified those described as "homegrown violent extremists" by characterizing criticism of government as an indication of terrorism.
In all 62 of the cases reviewed by those agencies recently, such "homegrown terrorists" were found to have "increasingly spoke out against the government" and "blamed the government for perceived problems".
Despite Obama's signing statement claiming he would not use the bill to detain American citizens without trial, it was the administration itself which demanded the 'kidnapping' provisions apply to US citizens and not merely foreign terrorists.
The anti-NDAA resolution, which is currently making its way through the Utah House, could be the precursor for a binding legislation along similar lines to the bill passed in Virginia.
According to the Tenth Amendment Center, which has been tracking the nationwide revolt against the NDAA, a total of nine states have now introduced resolutions or bills in opposition to the indefinite detention of American citizens.
source: InfoWars

Related articles: